What our dealer clients are scanning:
Deal Jackets
Accounts Payable
Accounts Receivable
After Sales/Warranty Payable
Bank Statements
Cancellations
Dealer Trades
Deposit
Floor Plan
Human Resources (HR)
Legal
Miscellaneous Invoices
Miscellaneous Checks
Receipts
Tag, Reg & Titles
Tax Forms
Warranty Cancellations
Benefits of Scanning Dealership Documents
1 - Free up valuable office space by eliminating bulky file cabinets and boxes.

2 - Preserve important information from physical deterioration and damage.

3 - Protect sensitive data with encryption, password protection and access control.

4 - Collaborate with staff in multiple locations and share documents instantly.

5 - Comply with audits by organizing, indexing and producing digital files quickly.

6 - Serve your customers better by sending bills, invoices and statements electronically.

7 - Reduce paper clutter and improve your productivity and efficiency.
Go green and reduce your environmental impact by using less paper.
Features
Unlimited document scanning.
Scan entire deal jacket documents.
Optional color scanning.
Easy to use touch screen, one click to scan dealership files.
After scanning, file can be easily verified via our secure portal document viewer.
Reporting that allows proper auditing of scanned files.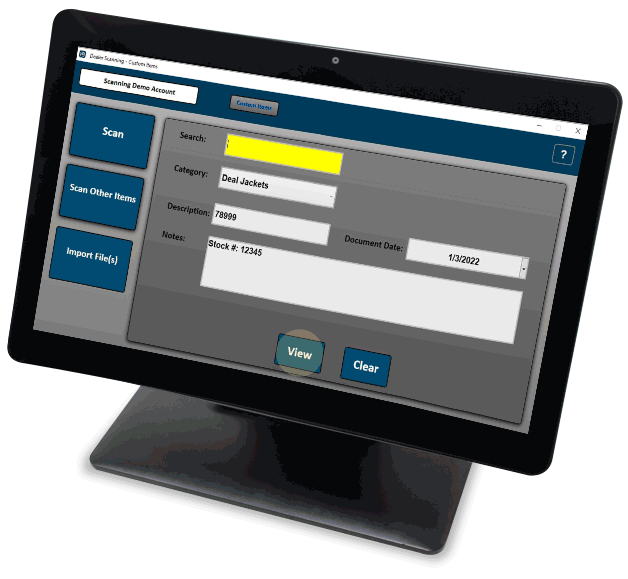 How to Scan?
Place the employee documents in the document scanner.
Press the Scan button on the touch screen.
The document pages will be scanned both front and back.
Enter basic document information.
Document pages are then automatically stored as a PDF file which can be retrieved via our secure online viewer.
Watch Demo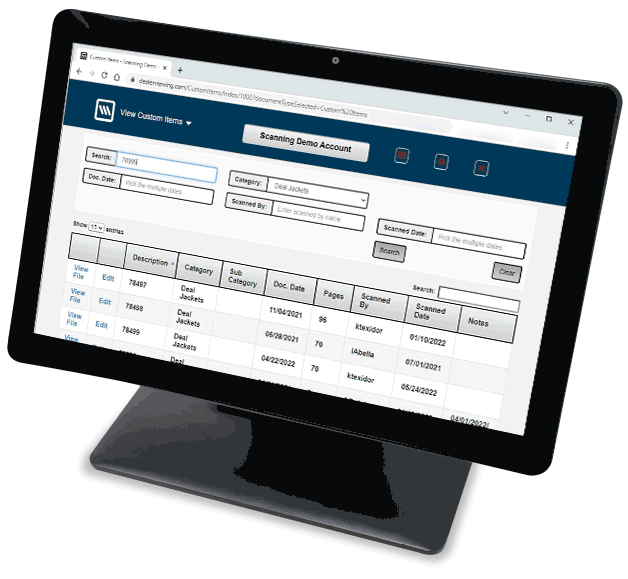 View Scanned Files via Secured Online Portal
Scan documents can be viewed via secured online portal
Easily for documents by category, name etc.
View, download or easily share scanned documents with team members.
Scanned files are converted to pdf file that can be viewed via secured portal application via any major browser.
Watch Demo
Document scanning is the smart solution for your dealership.
Contact us today to find out how we can help you transform your paper dependency with document scanning!