How much does this cost?
$500 per month
$500 installation
Includes All Equipment: Scanner & Touchscreen, Unlimited Scanning, Lifetime Warranty on Equipment, Ongoing Maintenance & Live Support.
Call us for in-person demo at
800-783-1540
Watch On-Demand Demo
Customized Scanning System for Accounting and Service Departments:
Two Minute Scanning Demo:
Simple + Fast RO Scanning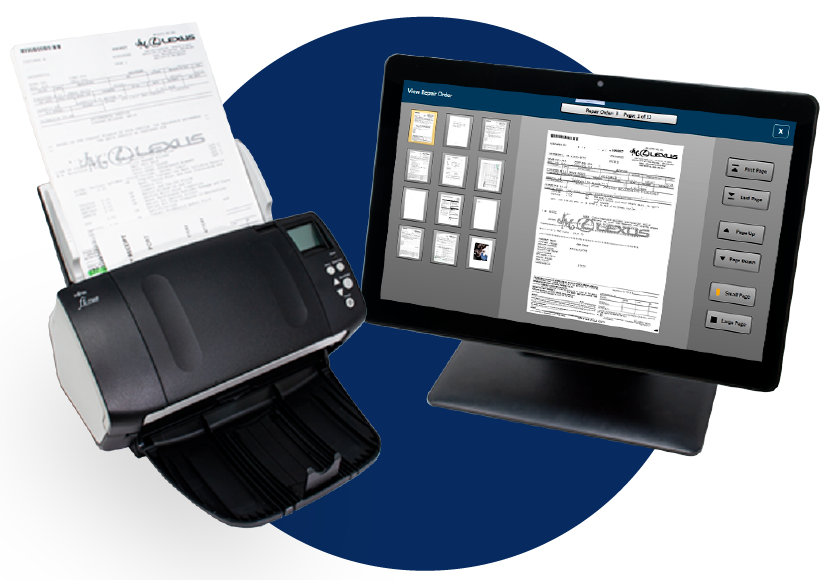 Learn more about RO scanning »
Learn more about deal jacket scanning»
Scanning Station Includes:
Equipment:

60 page per minute, double-sided scanner
Heavy duty all-in-one touchscreen computer

Unlimited scanning
Real Time Reporting
DMS integration
Unlimited Users
On-site installation & training
Lifetime warranty on all equipment
Month-to-month agreement
Multi-system discount
Scanned files are encrypted and backed up multiple times
Dealership owns data (no ransom fees)
DMS Integrations
CDK Scanning, CDK 3PA Certified, part of CDK Partner Program
Dealertrack Opentrack
Automate integration
Dominion Access
Autosoft Connect
Dealerbuilt DMS
Dominion Access
more...
Top Reasons To Scan Documents at Car Dealership?
Increased efficiency and speed in document processing.
Improved organization and storage of important documents.
Reduced risk of lost or misfiled paperwork.
Enhanced security and protection against fraud.
Ability to easily access and share documents with other departments or locations.
Compliance with legal and regulatory requirements.
Improved customer service by having quick access to customer information.
Reduced cost of paper, ink, and storage space.
Increased ability to track and analyze data from documents.
Better disaster recovery capabilities in case of loss of paper documents.
What Your Dealership Gets:
1. Equipment:
Dealer customized state of the art computer touchscreen.
Industry best in class Fujitsu color duplex document scanner.
Scans 60 pages per minute, front and back.
Easily scan small items like battery test receipts, service coupons, sublets, etc.
2. Unlimited Scanning:
Scan up to 1 million repair orders, parts invoices, deal jackets, rental agreements and any dealership document.
Other scanning companies charge per scanned page, leading to bigger costs specially as your dealership grows or back scanning older files.
3. Reporting and DMS integration:
Dealer Scanning integrates with all major Dealer Management Systems (DMS).
We are the only company in the industry that provides the following reporting:

Not Scanned Report: Shows ROs that were closed but not scanned.
Warranty Not Scanned Report: Shows ROs with Warranty work that was not scanned. View example
4. Unlimited Users:
Unlimited dealership users.
Security tracking for any user viewing scanned documents.
Off-site warranty administrator viewing secured capabilities.
5. On-site installation & training:
On-site, in-person installation takes about 2 hours.
Training is simple, takes less than 10 minutes. See how our scanning unit works here: Watch Demo
6. Lifetime warranty on all equipment:
Scanner and touchscreen are included in monthly price.
Any issues to equipment Dealer Scanning will replace at no extra cost during life of use.
Supplies and maintenance supplied during scanning unit use.
7. Month-to-month agreement:
No long term contract.
Month-to-month agreements keeps us diligent in always offering the best service to our dealerships.
30-day cancellation notice
8. Multi-system discount:
Contact us for Dealer Group discounts.Phone: 800-783-1540
Discount for dealers that require more than one scanning unit. Call us: 800-783-1540
9. Encryption:
Immediately after file is scanned, it is converted into a PDF. This PDF is encrypted.
Scanned files can only viewed by the dealership along with enhanced security tracking.
10. Dealership owns data:
All scanned files are property of the dealership.
After cancellation of services, Dealer Scanning will provide all unencrypted scanned files to dealership.